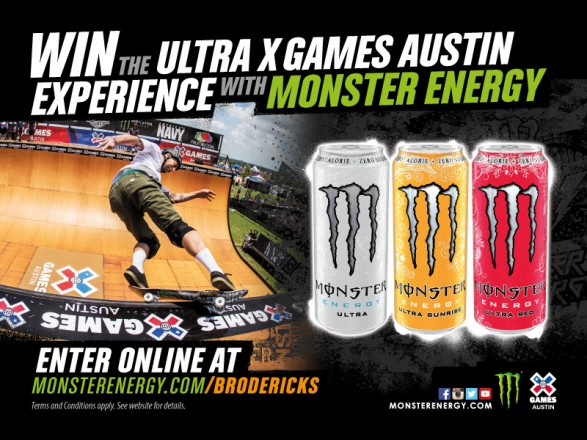 A Monster opportunity for Broderick's customers.
The X Games will return to Austin, Texas, from June 2-5, 2016. Celebrating its third year at Circuit of The Americas, the world's premiere action sports and youth cultural experience will showcase the talents of more than 200 world-class action sports athletes competing for medals and prize money. On top of that, the event features performances by renowned figures from the world of music and there's a wide range interactive elements to enjoy. Sponsored by Monster Energy.
Why are we telling you this? Because you could be there, thanks to our friends at Monster Energy Drinks.
Have you sampled a Monster yet? It packs a serious caffeine punch to get you through the day – but to enter the competition, you don't even have to buy a can…
Just click here, fill in the form and you're in the draw. It's that simple. And if you win – and somebody reading this may well win – remember to tell them, 'Broderick's sent me!'