Better for you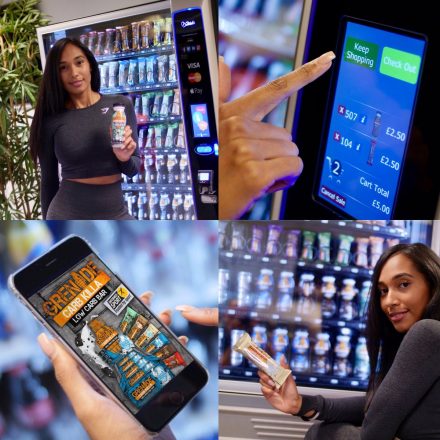 Better for you range
Broderick's Better for You range helps consumers make a conscious choice when they reach for refreshments on-the-go. With healthier eating continuing to hold the headlines, it's our mission to make treating your body as a temple as delicious as it is nutritious, with tasty vegan, vegetarian, gluten free, protein-packed and low sugar snacks.
We know that one of the biggest barriers to consumers choosing healthy snacks is taste. So, our range of healthier beverages and snacks only includes things we'd want to eat or drink ourselves.  That's why every single Better for You item undergoes rigorous testing in our Taste HQ.
Here are just a couple of the delicious and nutritious brands that have made it into our Better for You range of drinks and snacks:
Grenade
Grenade's® innovative sports performance energy protein bars and shakes have a huge following ranging from professional athletes, fitness enthusiasts and military personnel in 100 countries worldwide.
We think Grenade® is one of the most exciting sports nutrition companies in the market today. Thanks to their great taste and performance properties, we're seeing sales soar at gyms, universities and health conscious work places.
Upbeat Protein water
The super-refreshing Summer Lemon and Blueberry & Raspberry healthy drinks from local brand Upbeat contain real fruit, whey protein, essential vitamins and no added sugar.
They're as big a hit in Broderick's HQ as they are with our vending customers – keeping us refreshed and performing at our best all day.
Battle Bites
High in protein, low in sugar, Battle Bites are guilt free snacking with a side of indulgence. Each bite-sized piece is made in a family-run bakery in the UK with a unique bake process that serves up a sensational softer texture.
Food Doctor – protein crisps
New to our fold is the well-loved Food Doctor range of popped Crisp Thins, made with soya and corn rather than potato.  Lower in saturated fat, with a satisfying crunch, Food Doctor Crisp Thins are never fried or baked. Their fibre and protein-packed properties make them a filling, healthier snack.
Big brands
Our favourite big brands have also upped their game when it comes to healthier offerings. Only the pick of the crop make shelf space in our vending machines, including Walkers and Nestle's latest health conscious snacks:
Nestle Yes
Blends of fruit, veggies and nuts in bars that open up a world of wholesome snacking, Nestle Yes bars are a feast for both eyes and taste buds.
Our friends at Nestle have thought of it all with scrumptious snacks that are low in saturated fat, high in protein and with no added sugars. Their fruit and veggie bars are vegan, with no added sugars and they count as one of your five-a-day.