A Coffee Break with Fara
At Broderick's, we're always on the lookout for new talent to add to our wonderful team. Fara joined us last month as our Social Media and Marketing Assistant – she'll be taking the reins on content creation, campaign ideas, running our app and using her creative marketing skills to develop our beloved Broderick's brand. We had a quick chat with Fara to find out more about her time with us so far.
Tell us about your degree, what made you want to pursue marketing?
I think I always wanted to do something creative when I was at school. I did a week's work experience at AJ Bell in the marketing department, and I ended up really enjoying it, so I knew it was something I wanted to continue with. When it came to my degree, I decided to study marketing to explore the industry and really find my niche. My degree is focused on consumer behaviour, sustainability, and brand management so it's great to be able to use my knowledge and put it into practice in a business environment. The refreshments and vending sector is right up my street – the more I learn about the industry, the more I realise how much goes into it in terms of the vending machines themselves, drinks and snacks, healthy alternatives, innovative products and so much more!
How did you find out about the internship?
As part of my degree, I decided to complete a year in industry to gain practical experience, and so when I was looking for a company to work with, I found this placement through my university's careers hub. I think Broderick's is really great at nurturing young talent, there is another apprentice on my team who started about 9 months before me, and they often recruit and pay students to share their opinions and ideas to improve the business. So, I think as the team grows, we will see more people starting their careers with Broderick's.
Where do you see yourself after graduation?
I'm already learning so much about the aspects if marketing I enjoy the most, so I can see myself leaning more towards the digital side of things. I also love working in the food and drinks sector, so I'd definitely consider a similar role after graduation.
What does a typical day look like for you in your role?
In the morning I usually plan a for the week ahead, I like to focus on twitter at this time of day as that's when our followers are most active and then the rest of the platforms throughout the day, especially around typical coffee break times. I usually spend a lot of time creating content and editing, with meetings in between. I can't deny this experience has really solidified my love for coffee – if I'm not at my desk you'll catch me at one of our vending machines getting my daily coffee fix!
What have you worked on so far? Is there anything interesting coming up?
I'm still learning a lot and getting to grips with my role, but I'm really enjoying creating content and I'm looking forward to doing more for students and coming up with ideas to appeal to the student market. For example, campaigns like Nando's November where they can win Nando's vouchers which I think is the perfect reward for a hungry student!
What kind of atmosphere have you noticed at Broderick's?
It's so friendly and family orientated – John and Pete always make time to say hello and chat to everyone even though they're super busy. The rest of my colleagues have been so welcoming, and everyone is so willing to help and offer advice.
What's been your favourite product you've sampled so far?
Other than the delicious coffee and hot drink selection I'm quickly making my way through, it's got to be the Broderick's salted caramel crispy bar – I love it! John has just put them in the vending machines and I'm so excited. The rocky road bar is a close second.
Tell us an interesting fact about yourself
I'm really into horse riding, I look after a horse called Toffee and I'm currently looking to buy another one called Nala who is just gorgeous!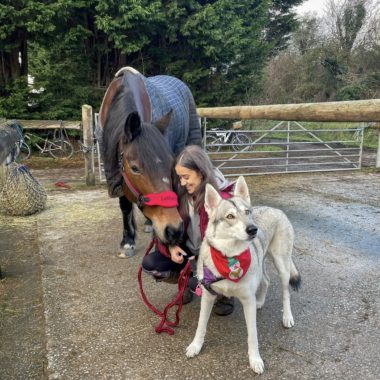 Written by: Lucia Castielli