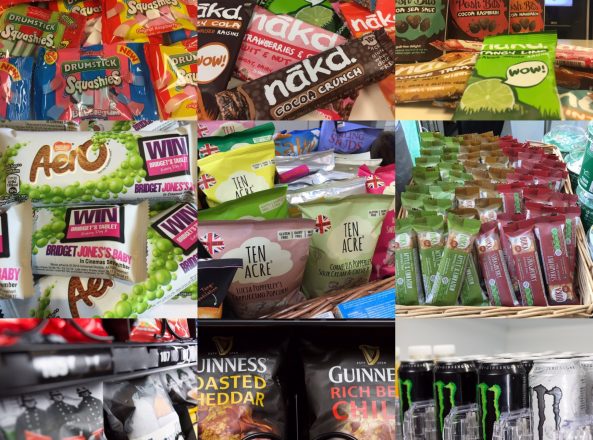 Battle Of The Brands
Broderick's back emerging food & beverage brands in MediaVend competition.
Broderick's, the UK's leading vending machine business, is pledging its support to emerging food and drink brands wanting to break the vending market with a mentoring scheme and Battle of the Brands contest.
The Battle of the Brands contest will see the winning new product securing a yearlong deal with the brand-enhancing vending business. The prize will include securing a hard-working sales platform through Broderick's suite of 1000 bottle and snack merchandisers, in high visibility locations across the UK. In addition, Broderick's is offering free on-screen advertising on its 300 Media Vend machines: point of purchase advertising which has delivered proven success for the likes of Aero, Monster and Malteser.
With a prize value that runs into thousands of pounds of media coverage and exposure the winning brand will also receive money-can't-buy realtime data and assistance from Broderick's team, including a short VT commissioned by leading agency Swagger who have helped brands including BWaffle successfully launch to market.
Talking about his motivation for championing emerging food and drink brands, John said: ''I feel passionately that everyone deserves a lucky break in life, but you also make your own luck. I'd like to see a plucky brand that stands out from the crowd winning this opportunity to use Broderick's as a launch pad: it could be in the healthier eating category, through innovative delivery of taste and energy, or it could be thanks to forward-thinking packaging for on-the-go snacking. It's a level playing field, we're ready to be impressed!
''The food and drink sector can be tough for start-up brands and we have found there are so many companies out there with fantastic ideas and products, who find it difficult to get share of space on the supermarket shelves. Our vending machines are the ideal platform for product launches as they give brand visibility and brand awareness around the country in areas of high footfall and demand, like universities, airports, businesses and call centres.''
Thanks to industry leading on-machine telemetry, Broderick's can offer the winning brand invaluable insight, so they can see exactly where their markets are, who's engaging most and when, with real time sales data. Reporting from Media Vend advertising campaigns shows exactly how hard working this point of purchase mechanism is – thanks to its ability to link in with wider marketing campaigns and even social media initiatives.
To enter the Broderick's Battle of the Brands contest, emerging brands need to send a submission to John Broderick by clicking here, the product must vend. closing date 31st January 2017 explaining why their product deserves to backed by Broderick's and MediaVend the shortlist will be asked to come and present to a panel of of Broderick's and MMU students involved in the project. The winning brand will work closely with the project team and receive all data relating to the performance of the winning product across the entire estate.
The winning brand will be announced in February ahead of March 2017 launch date