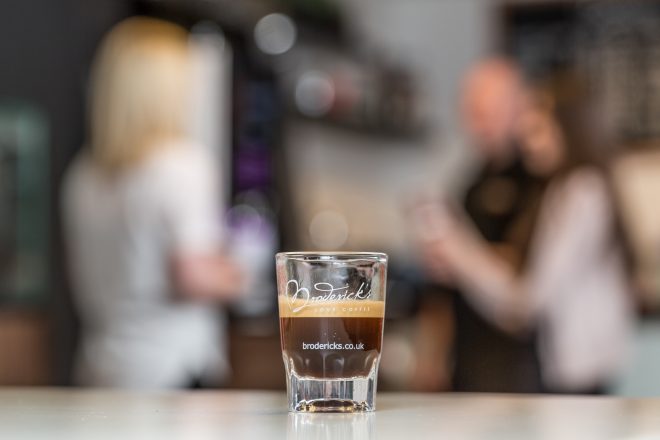 BE RECYCLING

Broderick's Coffee and Panda Waste Management have created the "Be Recycling" program and combined their vision and resources to form a new, green, nationally focused coalition designed to reduce environmental waste caused by takeaway paper cups and waste coffee grounds in Ireland.
Traditional paper cups are incompatible with paper recycling systems and are therefore typically diverted to landfill. The "reCUP" is a new takeaway paper cup that is engineered to be fully recyclable using existing paper recycling processes and infrastructure to be made into new recycled paperboard products and will be manufactured by Cup Print in Ireland.
Meanwhile, thousands of tons of coffee grounds are produced in Ireland each year, most of which are disposed of via landfill as well. bio-bean® is the first company in the world to industrialize the process of recycling waste coffee grounds into "Coffee Logs" for use in domestic stoves, solid fuel pellets for commercial  boilers, and advanced biofuels for use in the transport sector.
Starting January 2018, a select group of 5 of Irelands leading coffee retailers, will begin serving takeaway coffee and tea in reCUPs, distributed by Broderick's. As part of a closed-loop recycling plan, Broderick's and Panda Waste Management will coordinate the collection of binned reCUPs and coffee grounds for recycling.
As the rollout continues to additional locations into the future, it is planned for reCUPs to be introduced into traditional residential and commercial waste collection services.
Broderick's is the leading independent vending operator in Ireland and the UK and a major distributor for retail, vending, and coffee house segments.
Drawn to the demonstrated quality and environmentally-friendly properties of the reCUP product, "reCUP is a fully recyclable paper cup that we can stand behind and guarantee that all cups collected through our scheme are not just recyclable but actually will be recycled.
"This is a product that enables consumers to enjoy quality coffee and tea on-the-go, whilst addressing the increasingly important problem of reducing environmental waste in Ireland.
"Combining this with our waste coffee grinds collection will also have a significant impact on reducing greenhouse gas emissions in Ireland," says Seamus Kenny of Broderick's Coffee.
"We love the idea of coffee cups going directly back into the recycling loop without extra processing or segregation", says Des Crinion of Panda Waste Management. "… by supplying the board manufacturers with the recyclable material that we will collect nationwide, (to be made into new recycled paperboards), this is closed-loop recycling and the circular economy working as it should in a real-world situation".
The reCUP is also sold in in the United States, and in Australia under the "RecycleMe" brand name. The reCUP trademark and its patented technologies are owned and licensed by Smart Planet Technologies.
About The Panda Group
The Panda Group provides waste management solutions to over 30,000 commercial customers, ranging from small shops to large national enterprises, on a weekly basis all over Ireland. Through working closely with clients and utilising the best available technologies in the marketplace we raise the standard of the commercial waste collection industry in Ireland. As a result, we see the companies within The Panda Group as the industry leaders in waste management.
Be Recycling article courtesy of reCUP see here