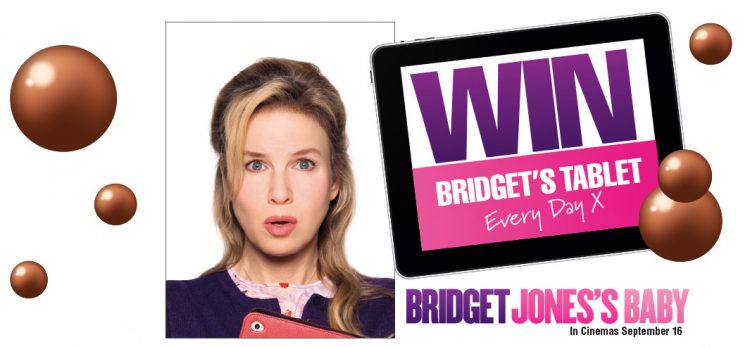 Have you heard that Bridget Jones is having a baby? And it's all happening at a cinema near you, launching 16th September!
Well, Nestle has teamed up with Universal to bring a big Bridget-like promotion to its scrumptious promotional packs of AERO®. And guess which vending machine and refreshments business has been chosen as a key media channel to sell and promote the competition?
That's right – yours truly: Broderick's! So, from 16th September, grab as many promotional packs of AERO® as you can from your closest Broderick's vending machine, because we're desperate for one of our customers to be a winner!
The prize
Nestle is giving AERO® lovers the chance to WIN Bridget's Tablet EVERY DAY via daily prize draws.
From the Big Screen to Media Vend's Screen
You'll find more info about the prize and how to enter on the screens of our interactive Media Vend Machines. The promotional packs include these favourites:
AERO® Milk Single Bar 36g
AERO® Peppermint Single Bar 36g
Available in your vending machines now!
Daily draws close at midnight each day from 29.08.16 to 23.10.16. There will then be 3 'late entry' draws, which will close at midnight on 30.11.16, 30.04.17 and 31.08.17. Entries are only valid for one draw and will not roll over.
Spread the word!
So, tell all your colleagues and vending machine users to try their luck – someone's got to win!
Visit Aero's website to be in with the chance of winning – https://www.aerochocolate.co.uk/winatablet/
Oh, and if you want to know more about the film, this is what you have to look forward to:
Bridget Jones's Baby
2016 ‧ Romance/Comedy ‧ 2h 5m
Breaking up with Mark Darcy (Colin Firth) leaves Bridget Jones (Renée Zellweger) over 40 and single again. Feeling that she has everything under control, Jones decides to focus on her career as a top news producer. Suddenly, her love life comes back from the dead when she meets a dashing and handsome American named Jack (Patrick Dempsey). Things couldn't be better, until Bridget discovers that she is pregnant. Now, the befuddled mom-to-be must figure out if the proud papa is Mark or Jack.