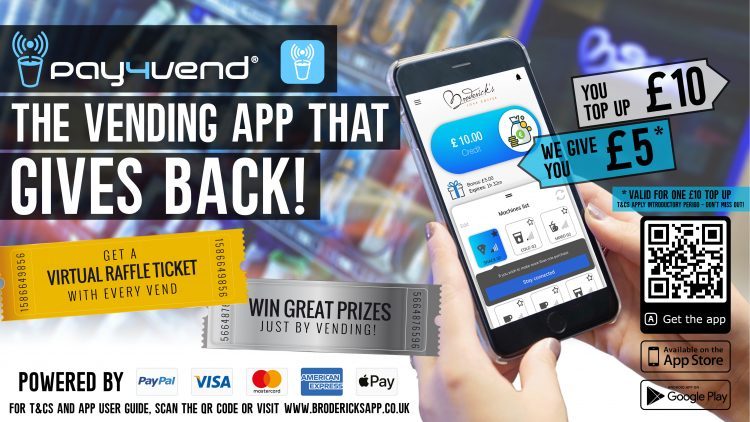 Freshers' Week is an exciting time for students everywhere…and we're offering a fabulous new promotion for Manchester Uni and MMU students and staff on our Pay4Vend App. There are lots of amazing prizes up for grabs including  monthly prize draws, freebies and brilliant product discounts to enjoy too!
Every qualifying purchase made via the app will generate a virtual raffle ticket for our unmissable Missguided vouchers prize draw. It simply couldn't be easier to be a winner! We know that Freshers will have more than enough to think about over the next few weeks, so with Pay4Vend you never have to worry about having to find spare change for your vending! It's all cashless with Pay4Vend!
And, we're also offering a terrific £5 in vending credit! Students and staff members just need to download our Broderick's Pay4Vend App – for vending machine purchases – before the end of October to claim £5 credit for free drinks or snacks when you top up your first £10. It's our very own welcome to Manchester and a welcome to new age vending too!
We at Broderick's are at the forefront of 21stcentury vending, introducing an element of fun and excitement to day to day vending with regular Pay4Vend competitions and promotions, discounts and special offers running throughout the year. Thanks to Broderick's, vending is trending on campus with healthy, 'free from' and protein packed options from popular, modern day brands as well as the much-loved snacking staples.
As our MD John Broderick commented: "Now more than ever before, vending is trending at Unis, offices and leisure outlets throughout the UK. Our Pay4Vend App is just what today's customers are looking for and our 21st century snacking  choices are really hitting the spot, with new additions that are right in line with contemporary tastes.  Add to this our barista-quality coffee, leaf tea and our best-selling luxury hot chocolate and you'll find a campus snacking solution for everyone."
Broderick's Pay4Vend is available on the App Store and Google Play Store. Scan our handy QR code for a quick download.