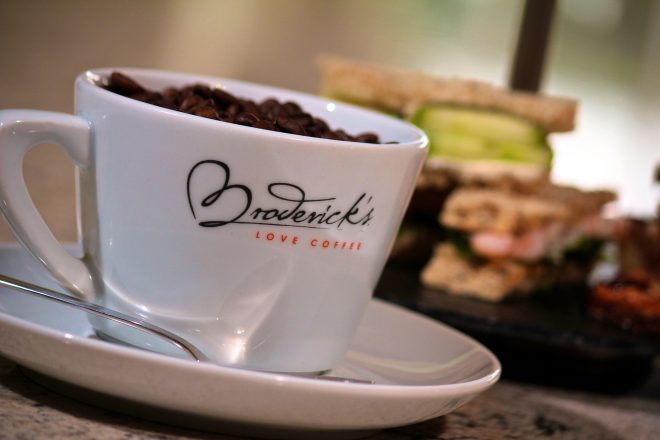 We've created something rather special for Broderick's clubhouse members…
One of the hassles of travelling, if you're a coeliac, a vegetarian, a vegan; or if you suffer from food allergies, is getting the food you need when you need it – but for Broderick's Clubhouse members, those worries are over. You can now peruse our special menus online and pre-order your meal or snack. It'll be ready and waiting for you when you arrive.
'Broderick's Clubhouse' is an on-line zone, restricted to clubhouse members, which provides access to the very best deals and promotions we offer at our 'Broderick's Love Coffee' bars – and if you have special dietary requirements, it's an absolute 'must'!
'The authorities at Manchester Airport tell us that 70% of all enquiries to food and beverage outlets at the airport are from people with special dietary requirements, wanting to know if they can be catered for', Brand Ambassador Clarke Broderick said. 'We've taken that on board.'
Gillian White is Vice Chair of the charity Coeliac UK. 'As a Coeliac and someone who travels a great deal, I'm delighted that Broderick's are helping  their customers have access to an exciting and wide range of dietary options', she said. 'Offering a way to purchase that's easy, stress-free and reliable makes a big difference and it means there's one less thing to worry about when you're travelling.'
It's a 'No- brainer'
Clarke Broderick explained why becoming a member of Broderick's Clubhouse is also a 'no-brainer' for the general public. 'Members will enjoy a range of benefits, all free-of charge. We work closely with some of the biggest snacks, drinks and confectionery brands in Britain, and with them we'll be offering exclusive promotions featuring household names as well as products that are new to market', he said.
The advantages don't end there: 'We'll soon be launching 'Brods To Go',' Clarke said. 'We'll be providing hot food, Panini's, for example, in heat-sealed foil bags, so that customers can carry food onto their flight – which is great news for anyone wishing to avoid inflated in-flight prices
So, on top of the serious benefits of membership, there's plenty of fun – and discounts – in store for members.
'This is just the start', Clarke said. 'There's so much more to come and the good news is that becoming a member of Broderick's Clubhouse is completely free of charge.'
Want to know more? Get in touch here