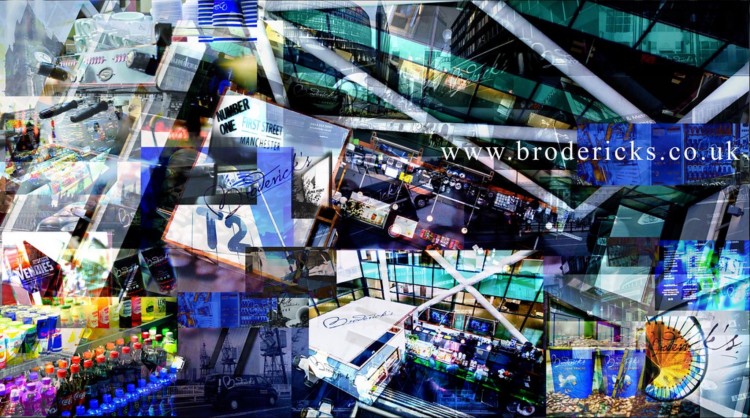 Broderick's create a virtual art gallery on touchscreen vending machines
Broderick's virtual art gallery will showcase photomontages at some of the countries leading airports including Manchester, Stansted and Birmingham as well as Manchester University and the MMU amongst a host of other Business and industry sites.
We've been working on building a new web site and the attention to detail in every aspect of the project has been mind-blowing. Whilst the SEO back of house remains a closely guarded secret,  Every page, every word and every image on the site is as good as we can possibly make it. I decided early on that the last thing I wanted to do was to use lots of 'stock shots'. So, the majority of all the photos on the site are originals, taken exclusively at Broderick's locations.
However, looking critically at the results of all our hard work, just prior to the 'go-live', I had a nagging feeling that we still needed something extra, something that would say 'Why Broderick's'. That's when I came across the work of Sasha Ray, on LinkedIn. Sasha's an artist working in the medium of photo-montage and the images I saw were stunning. Impulsively, I sent her a message. She responded immediately; so we had a chat on the phone and by 11:30 next morning, she was making herself comfortable in my office.
'My style of photography is stylish, edgy, high-end, contemporary, and authentic', she said. I thought, 'that's Broderick's: stylish, edgy, high-end, contemporary, and authentic.' I commissioned her there-and-then to create two images that represented our Business  for the new web site. Watch Sasha's video interview here
What Broderick's is doing for Sasha Ray.
Sasha told me about her plans. It's her intention to travel from commission to commission, from city to city – but to accomplish that, she has to be better known. It doesn't matter how brilliant your work is, if nobody knows about it…
I instantly became a fan that's when I thought about Mediavend. We've granted Sasha her first exhibition: but it won't be in a gallery. Over the coming weeks , literally millions of people will see Sasha Ray's work for themselves. I'm not sure that any gallery exhibition could match those 'visitor numbers'.
Mediavend allows brands to advertise new products and special promotions, direct to consumers, on HD screens integrated into our vending machines. In other words, at point of purchase.
All's Well That Ends Well
Everybody wins. We get the compelling images we need to showcase our new website www.brodericks.co.uk and Sasha gets a bumper pay-cheque that comes with a priceless bonus – massive exposure for her work.
PS: I'd like to take this opportunity to thank the creative people who have worked with us and delivered this very demanding project: Clock Creative, Swagger video, Sasha Ray, Mr Vain photography, Conker PR and industry bloggers reynoldscopy.
Johnny Broderick.