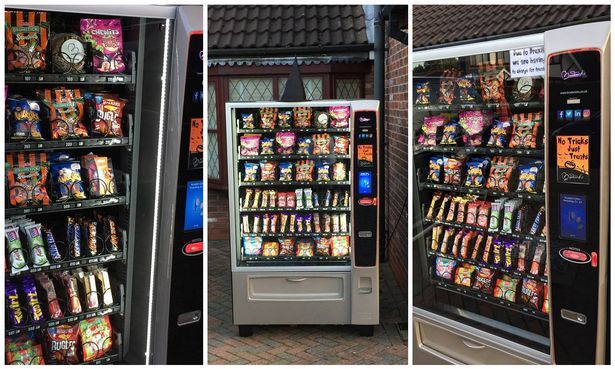 John Broderick had a queue of children at his door after filling a vending machine full of goodies.
Sick of getting up to answer your door to trick or treaters? This businessman has an ingenious idea. John Broderick installed a VENDING MACHINE filled with treats outside his house to give kids a Halloween to remember .
The 50-year-old had a queue of little ones outside his Trafford home after they spotted the machine filled with all kinds of goodies, the Manchester Evening News reported. Trick or treaters were able to pick a snack for free – and they wasted no time getting their hands on something tasty.
Scores of youngsters in fancy dress descended on John's Hale Barns home to see the vending machine for themselves. Former City legend Shaun Goater – who lives on the same road – even popped by to take a look.
John runs Broderick's with his brother Peter after their dad John Senior, started business as Manchester Vending in 1969.
The business, which makes a range of fancy vending machines, bagged a series of industry awards and accolades before creating a chain of coffee houses. Their flagship store opened at Manchester Airport back in 2008. Grandad John said: "I decided to bring one of our vending machines home, I knew the kids would love it. The idea was to take trick or treating to another level.
"I have nieces who live on the same road and there's loads of kids nearby.
"I bought it home for a bit of fun, but it went crazy. So many people from all over the place came to see it.
"It was so funny seeing their reactions. Everyone loved it. It caused a fuss, but the main thing was the kids having fun.
"Everything was free, they could pick what they wanted.
"It was nice because I met neighbours I'd never spoken to before. People were driving past wondering what the crowd was."
Hundreds of people have viewed a video John took of children queuing up for the vending machine, with scores of Facebook users applauding him for the Halloween stunt.