Manchester Airport staff and travelers are the first to sample Broderick's brand-new Nitro Coffee – which the refreshments company has launched today, the hottest day of the year.
With temperatures hitting a searing 33 degrees C, Broderick's has come to the rescue to take the heat out of the day.  Hot and bothered passengers have been gratefully heading to Brodericks' Terminal 2 coffee bar at Manchester Airport for a refreshing fix of the new Nitro Coffee.
Managing Director of Brodericks, John Broderick, commented: ''We're extremely excited to be able to launch this very apt new cold drink when our friends at Manchester Airport need it the most. Our Nitro coffee has been two years in the making – we already had the technology to serve fresh, chilled coffee on tap, but we spent a long time perfecting the taste. We're passionate about our coffee and – hot or cold – it can only be the best.''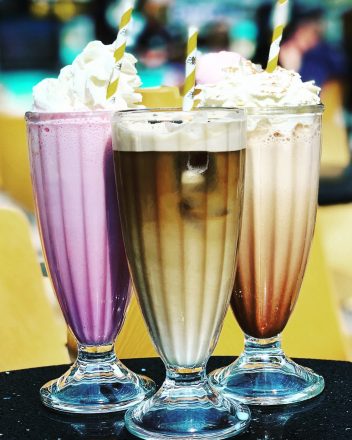 Broderick's Nitro-Coffee is created using 100% arabica beans.  New cold brew technology means that the caffeine, taste and consistency are spot on, and customers can watch their refreshing drink poured with a head that's as satisfying as any pint of Guinness.
One of Manchester Airport's retail operations team, Francesca Eite said: ''We're all big fans of the drink! Success all round and one tea drinker converted!''
Drinks trends are on the move, with more and more people choosing chilled.  Working closely with BevTek, a company that provides pioneering equipment for the drinks sector, Broderick's has a calendar of exciting Nitro drinks planned, with seasonal specials in the pipeline.
Plans are in place to develop the offering for coffee shops, sports and golf clubs and well as restaurants.
Cheers to the chill on this scorching day!