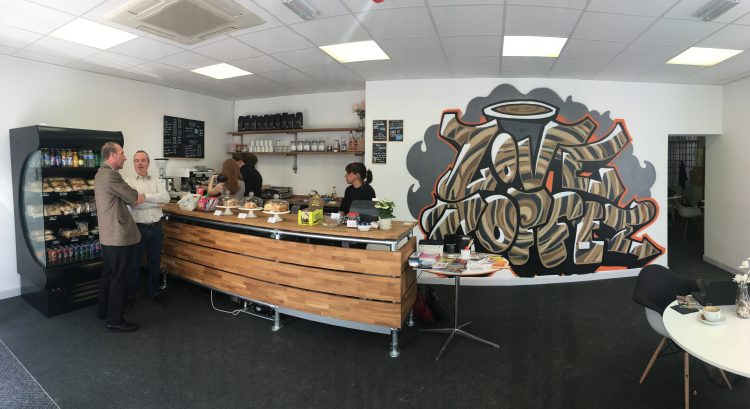 At Broderick's we have a mantra that our coffee should not only taste good, it should do good too. We believe it's important to give back to the community and there are lots of ways we try to help out: donating time, money and products to good causes.
We're really proud of the ongoing work we're doing with the Mitie Foundation, whose vision is to improve employment chances for people of all backgrounds and increase social mobility.
One great example of our partnership with Mitie is their fantastic initiative in Huddersfield, working closely with local charity: Global Diversity Positive Action.
Together the social enterprises have created an inspirational space aimed at getting young people who are not in education, employment or training, ready for the workplace. The result is a town centre shop transformed into a creative music studio, coffee shop and Microsoft image academy. There are workshops, motivational classes and Microsoft courses to help get young people ready for the workplace.
Barista machine donation gives real life employment skills
So, where does Broderick's come in? We've proudly donated a Barista machine for the café, which is also using Broderick's ingredients and take-away cups.
Broderick's, Steven Broderick, said: ''The Barista machine donation could not have gone to a more deserving cause. We've been inspired by the passion and commitment we've seen both from the charities and other suppliers involved in the project.
''We were also blown away by the 'Love Coffee' mural on the wall of the café, which was created by a local homeless man, and inspired by Broderick's branding.''
Feedback from the local community has been really positive and dozens of NEET young people have already tried their barista skills on the barista machine that Broderick's donated.