BRODERICK'S HAS YOUR BACK THIS CHRISTMAS
It's the most wonderful time of the year! Christmas is approaching and we couldn't be more excited.  The Manchester Christmas Markets are officially open, the UGG boots are on, and the summer heatwave feels like a distant memory. But we know it's not all Christmas cheer. This time of year is always a squeeze on your bank account and with the cost-of-living crisis everyone is really feeling the pinch this year. Don't panic! Broderick's are here to take some of the pressure off and keep you refreshed, relaxed and ready for Christmas while saving you some serious pennies along the way.
Rockin' around the duty free
If you're off on holiday this Christmas (lucky you) chances are, you'll swing by a Broderick's vending machine as you're heading towards the departures lounge. With 42% of the UK wanting to spend Christmas abroad*, it could be a busy time at the terminal. Whether you need your early morning coffee fix to help you through your flight, or a little refresher as you're bargain hunting at duty free – we've got you covered. Skip the queue and grab yourself a barista quality coffee for a fraction of the price and be the first on your flight!
Shop 'til you drop
Excited about the Trafford Centre's Tinseltown? Or just want whizz through your Christmas shopping? With the average Brit spending 10 hours and 7 minutes** getting their gifts in order, it's safe to say it's thirsty work. At the Trafford Centre our vending machines will give you a quick, convenient refreshment whenever you need it. Whether it's a toasty hot chocolate as you're checking out the dazzling light displays, or a bottle of Coke for a fizzy re-fuel before you tackle the next queue, Broderick's has got you covered.
Snow place like Uni
For most students in the UK, Christmas means one thing and one thing only: January exams. For a little incentive that's budget-friendly, refresh with Broderick's using one of our many campus vending machines. Give yourself the gift of cut-price caffeine to help you through those late-night study sessions and make your professors proud.
Christmas coffee breaks
Make Pay4Vend your new best friend. Spread the Christmas spirit by gifting credit to your friends and family over the festive period. We all could do with a coffee break, especially during the Christmas chaos. You can even take advantage of a cheap and cheerful refreshment at work with your co-workers, why not debrief on the Christmas do with a luxury latte? 'Tis the season for treats so get yourself a little 4pm chocolate bar to get you through the day. No judgement from us, we all do it!
There's so much to gain by downloading the Pay4vend app and enjoying a Broderick's wherever you go – trust us it'll be on everyone's Christmas list this year. Enjoy the festive season with a Broderick's.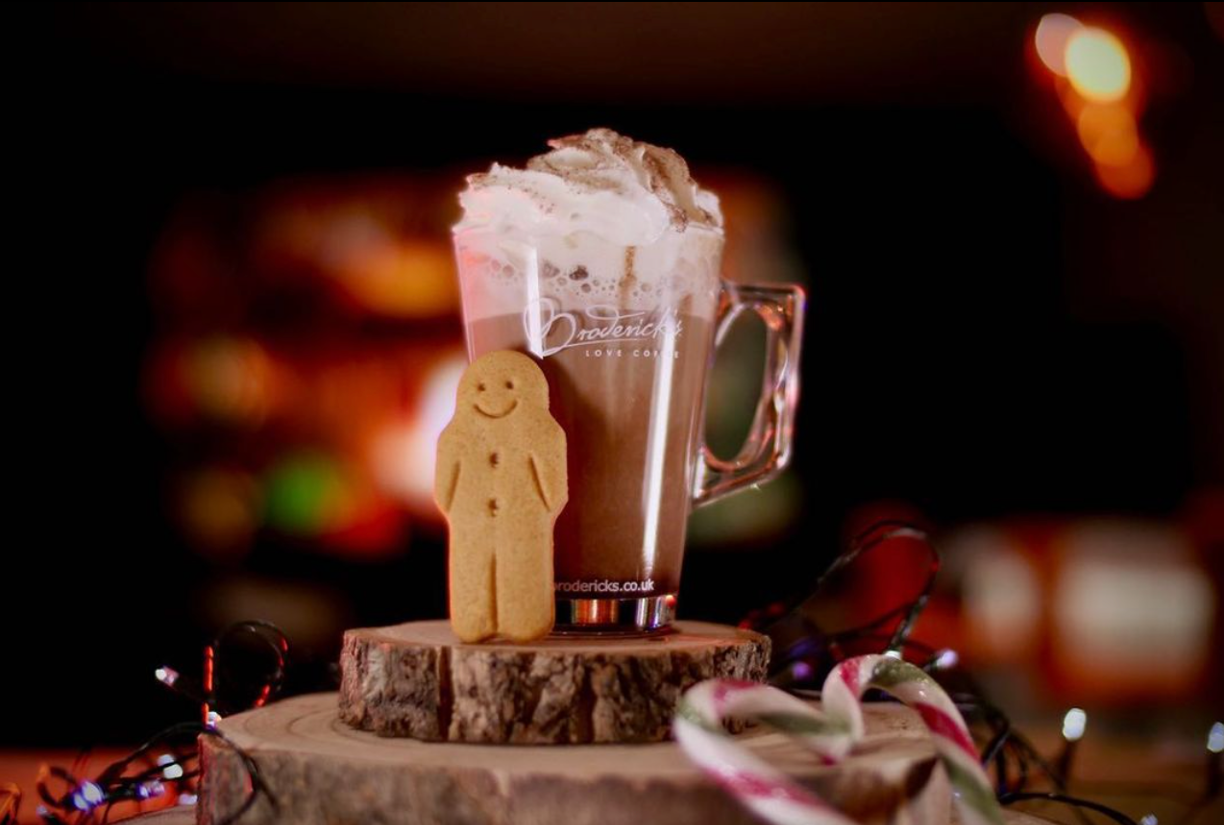 *https://www.bolsovercruiseclub.com/blog/sun-sea-and-snow-the-rise-in-spending-christmas-abroad/
**https://www.mirror.co.uk/news/uk-news/revealed-how-much-time-brits-9418608