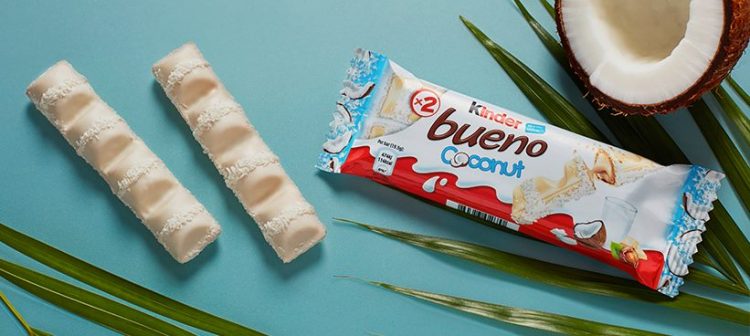 LIMITED EDITION THIS SUMMER
Last month Ferrero brought a twist on the original Kinder Bueno with the launch of a coconut variant, in order to excite shoppers. Joining the much-loved and unique range, which includes Classic, White and Dark; Kinder Bueno Coconut is a special edition product to reflect the rise in popularity of the exotic ingredient.
To make sure the new special edition is unmissable in the vending sector this summer, Ferrero has teamed up with Broderick's Love Coffee , to place Kinder Bueno Coconut in vending machines across the UK. This exclusive collaboration comes after the new Kinder Bueno bars launched in June and have since received a great response.
Kinder Bueno remains popular in a competitive category with the brand growing 14% and is currently worth £41.8m. Kinder Bueno Coconut is another delicious choice for adult shoppers with the instantly recognisable melt-in-the-mouth pods of smooth hazelnut cream encased with coconut milk and white chocolate wafer bar and dusted with coconut flakes. Like all Kinder Bueno bars, the coconut variant comes in pairs of four pods and is individually wrapped to ensure each person gets the same irresistible taste each time.
John Broderick, Managing Director at Broderick's, comments: 'We're delighted that Ferrero approached us to join forces on this exciting collaboration, offering us vending channel exclusivity for their indulgent white chocolate & coconut milk covered wafer snack – who could resist? It's our first full collaboration with Ferrero and we're confident that the strong sales performance of Kinder Bueno will be replicated in our vending machines across the UK, cementing the brand as a standout chocolate confectionary choice.
Broderick continues: "The bespoke advertising produced for Broderick's Media Vend channel has been a real hit with our clients and customers, with strong promotion at point of purchase and our Smart Broderick's machines have allowed us to share invaluable data."
Article published by Vending International – See here