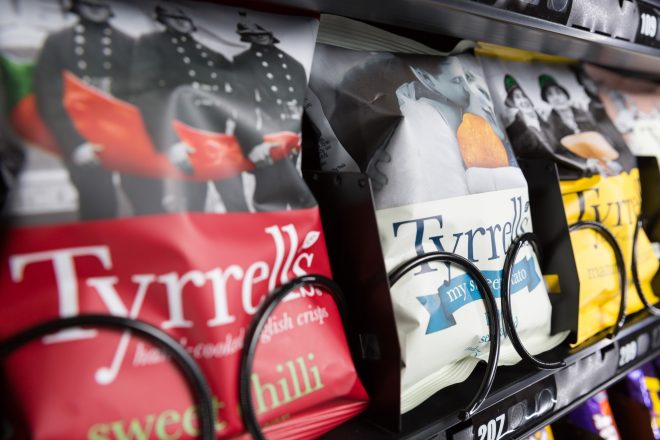 Coming soon to your Broderick's snack vending machine: Tyrrells hand-cooked English crisps® – England's leading gourmet potato crisp range.
If you're of the opinion that 'a crisp is a crisp is a crisp' – then think again. Tyrrells hand-cooked English crisps® are an example of English ingenuity at its best and we're delighted to say that you'll soon to be able to buy them from our vending machines.
What's more, we're delighted to tell you that Tyrrells have agreed to use our MediaVend screens to get the message about their hand-cooked English crisps to you, the consumer, at exactly the time when you're hungry and on the look-out for a satisfying, flavoursome snack. How smart is that?!
What did Tyrrells HQ say?
To whet your appetite, we sent our hard-hitting investigative reporter down to Tyrrells HQ, deep in rural Herefordshire, to get the low down… Here's a transcript of the interview…
Q: Ok then, tell us about Tyrrells!
A: We're Tyrrells and we spend our days making fine English crisps on our farm in the delightful Herefordshire countryside. We like to do things a bit differently to most.
Q: Does it matter what potatoes are used in the manufacture of crisps? I mean, they're all the same, aren't they?
A: Er, no they're not all the same. We're proud Herefordshirians (is that a word? Ed), so we use potatoes from local farmers, our favourites being Lady Rosetta and Lady Claire. They're the names of the potatoes, not the farmers. Just to be clear.
Q: Um…
A: That's not a question.
Q: Is it true that you leave the potatoes skins on, instead of peeling them?
A: Absolutely. Peeled potatoes are fine for mash, but for making crisps? A thousand times 'no', because, well… That's where the flavour is, for goodness' sake!
Q: He-he, 'for goodness sake!' I can see what you're doing there. Very clever.
A: Thanks.
Q: Why is it that all your crisps are 'thick cut'?
A: Because nothing satisfies the soul quite like the colossal crunch of a proper thick-cut crisp. It's a scientific fact.
Q: Really? A scientific fact?
A: OK, maybe not scientific in the nit-picking sense of the word. But it stands to reason. Have you even tasted our crisps?
Q: Oi! I ask the questions. (Yes I have. They're gorgeous). Did I read somewhere that you cook your hands?
A: I think you mean, 'are our crisps hand-cooked?'. Yes, they are. In our book, there's only one way to cook crisps and that's by hand. Each batch is given special treatment to create super-curly, characterful crisps.
Q: Is it true that you have small batches?
A: Any more of that and you'll hear from my solicitor! In all seriousness, yes we do. Like the finest whiskies, all our crisps are made the old-fashioned way, in small batches. It's the best way to make sure that every bag tastes as splendid as the last.
Q: What goes into the mix? I hear that some companies use all kinds of creepy ingredients for all kinds of creepy reasons.
A: You mean like mono-sodium glutamate and disodium 5?
Q: Well, I… Um, I mean… That's, er…
A: We wouldn't dream of using that stuff. We're not really sure what they are, for a start. Happily, all our seasonings are completely and utterly natural.
Q: Excellent. And finally, can you tell us about your 'big spinny thing'?
A: Ah, yes, our secret weapon. The moment they leave the fryer, our crisps go into our 'Big Spinny Thing,TM . It's basically like a huge tumble drier that drives off any extra oil and makes our crisps even crunchier.
Q: Thank you very much indeed. We're sure our customers are going to love your Tyrrells hand-cooked English crisps®
A: No, thank you very much indeed. And we're sure they'll love them, too.