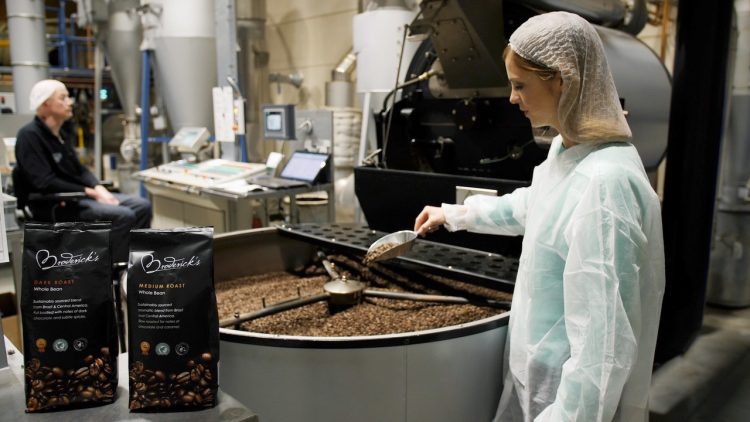 See the magic happen for yourself in this fascinating video which gives you a peek inside the roasting process:
There are around 200 million people working in the coffee industry – from the coffee growers, to roasters, and purveyors.   The story of how Broderick's brings you the perfect cup of coffee is a special one, though, as we've scoured the globe to find partners who are just as passionate as we are about setting the standard for coffee perfection.
Here's an insight into how the coffee you know and love from us gets to you.
It starts with sourcing the perfect bean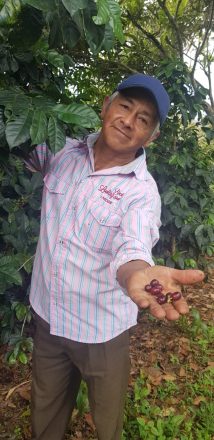 Your coffee's story all begins with a worldwide adventure to source the best quality beans with just the right attributes to create the ideal brew.
Did you know that our medium and dark roast coffee is created with beans from very different parts of the world?
It's the unique growing conditions of different geographies that give each coffee its unique attributes.  For example, Columbian coffee beans are known for their sweet, fruity flavours, whilst Guatemalan sourced beans are typically richly chocolatey.
Only the best seeds make the final cup – all harvests are hand checked for 'bad seeds' (ones left too long before picking or picked too soon).
Broderick's taste testers and managing directors spent months and months working with carefully selected growers to create just the right blend.
Our medium roast coffee is a full bodied, aromatic Arabica & Robusta blend with just a hint of sweetness – Peruvian beans bring earthy, nutty flavours.  In our dark roast, meanwhile, Brazil meets Central America for a strong, rich espresso blend with subtle hints of dark chocolate and caramel.
Ethically and environmentally conscious
Fair trade is close to our hearts: as early pioneers, we've been buying fair-trade coffee since 1998, long before other coffee companies were willing to take the risk.  Our coffee is also Rainforest Alliance certified – the fair prices we pay our farmers supports their local environment as well as helping to see their kids through school.
What's more, when it comes to being conscious consumers, nothing is wasted in the growing and harvesting  – when the cherries are picked and pulped, the flesh from around the beans is kept for compost!
Roasted to perfection
The beans are then brought to the roasters from Asia, the Americas or Africa to start our signature roasting process.
We're proud to work with a boutique Dutch roasting partner, which like us is a family run business – bringing with it an obsessive passion for perfection.
Each batch of coffee is only roasted to order, to ensure maximum freshness.
Like master chefs cooking steak, our roasting partners know the optimum roasting times for the perfect taste.  Did you know that much like popcorn, coffee beans double in size during the roasting process?
From roasting, the beans are immediately packaged and shipped to Broderick's Manchester HQ within 3 days.