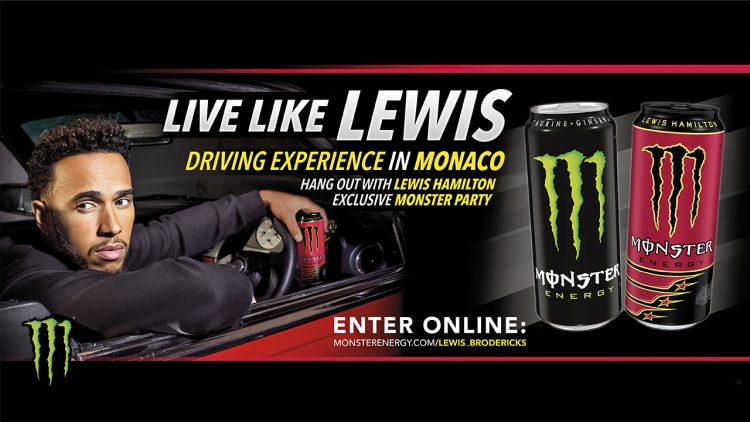 You Could be a Winner with Lewis Hamilton – in Broderick's New 'Monster' Competition!
Just as Lewis Hamilton has celebrated success at Silverstone with his fifth British Formula One Grand Prix win, there's a Monster prize awaiting one lucky Broderick's customer out there who will also be a winner – experiencing a taste of the high life in our latest brand partnership competition.
Hanging out with our top racer and enjoying a motoring experience of a lifetime in Monaco. It's the fabulous money- cannot- buy prize on offer in the awesome, new 'Live Like Lewis' competition brought to you by the 'Monster Energy' & Broderick's brands!
Running until 30 September 2017, the Monster competition is already creating high octane excitement and getting #vendingtrending with our customers! Since the launch of the Monster Monaco competition, customers throughout the UK have been driven to enter, to be in with a chance of claiming this experience- of- a – lifetime prize on offer.
All you need to do in order to be in with a chance of meeting our Formula 1 motor racing hero at an exclusive Monster Energy party and enjoying an amazing driving experience in Monaco is to visit the Monster Energy website https://www.monsterenergy.com/promotions/live-like-lewis-uk-brodericks and tell us why you deserve to win. It couldn't be easier!
As always we'll share the news when the winner is announced, so look out for the winner of the Monster Monaco 'Live Like Lewis' experience later this year.
Watch out for more unmissable competitions from Broderick's!