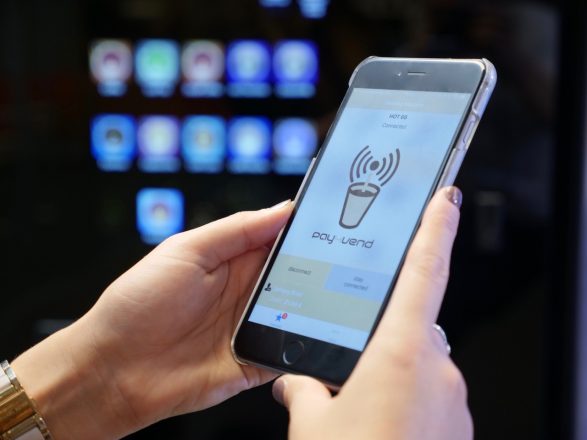 Broderick's new vending loyalty app Pay 4 Vend, said to be a UK first for the sector, is available to customers throughout the UK following a successful pilot programme.
Created in association with graduates from Manchester Metropolitan University and Italian tech giants COGES, Pay 4 Vend is a customer engagement device, a payment tool and a loyalty builder. Its big prize promotions have also proved to be an incentive for repeat custom at pilot scheme sites.
Broderick's MD John Broderick says Pay 4 Vend is an asset for everyone involved and is key to the future of vending.
"We've launched the vending loyalty app as we spotted a real opportunity to leverage the loyalty schemes seen on the high street, with our vending customers. Our latest 'first' from Broderick's raises the bar by delivering a completely fresh and convenient consumer experience in vending services.
"Payment has never been easier, customers can simply upload credit to the app using a cash card at a convenient time and be ready to pay the hassle-free way when they're on the move and want to refuel at a vending machine. With 52% of people heading out of the house with no coins in their purse or pocket, this has to be the future of vending.
"However, Pay 4 Vend is far more than just a handy, integrated vending payment system, it's informative, enjoyable and engaging and a platform for big draw competitions, rewards, discounts, news and promotions from household names and emerging brands. So far, our app pilot scheme has offered an opportunity to win prizes through the company's vending services, including the trip of a lifetime to New York and tickets to must-see music events and experience days. Following the national roll-out we now have a full programme of showcase prizes and promotions scheduled throughout the year."
Article from Vending International –  http://www.vendinginternational-online.com/national-roll-out-of-vending-app/