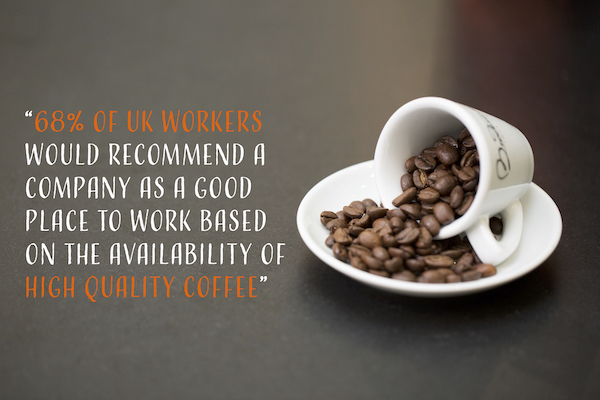 If your workplace prides itself with delivering high quality output, why should your employees get anything less?
According to recent research, "over three quarters of employees surveyed, drink coffee during their working day" (based on a survey from ComRes in the UK). Showing that our daily caffeine rush is a key element of the workplace.
Along with this, "27% say that the availability of high quality coffee in their office improves their daily work life to a great extent". Not only does caffeine help improve memory and concentration, researchers at the London School of Hygiene and Tropical Medicine found that those given caffeine made fewer errors. Therefore, it's surprising to see that only "three in ten UK companies have access to higher quality coffee".
A workplace with a befitting break area and coffee offering has the ability to motivate employees, and make employees feel more valued. The study, conducted by ComRes, found that "68% of UK workers would recommend a company as a good place to work based on the availability of high quality coffee".
It is a proven fact that coffee is a firm favourite UK office perk; it has shown to improve collaboration within teams and reduce stress. And with around "61% of employees reporting feeling stressed in work", it is as important as ever to provide a means to counteract this stress.
Broderick's has the solution!
Offering Coffeeshop quality is our mantra. Customers equate Broderick's with high quality coffee, with real milk, from the best range of machines, fitted with the latest modern technology. From bean to cup coffee to soluble coffee, we can cater to all tastes: whether that's a grande cappuccino or an intense espresso.
As all businesses are unique, our tailor made vending and refreshment services are designed to be bespoke to your company's needs. With managed, self-fill and do it yourself services; and the option to cash purchase, lease or free on loan machines – we have a solution for your vending requirements.
Why not have a free trial of our bean to cup coffee machines?
Open the door to your coffee potential, contact us to try our coffee in our showroom.
Give us a call on 0161 945 2020 for further info.