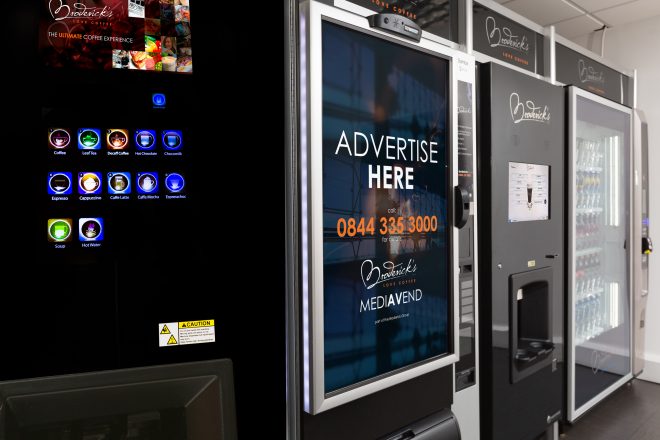 Vending machines in the workplace
At Broderick's we have a large selection of vending machines on offer, from snacks, hot drinks and chilled drink machines. We really do have a solution and a product for every situation. Most of our machines allow you to advertise on them. With great features such as nutritional information, disabled access and much more. If you have specific requirements and would like to chat about your vending machine options, please do not hesitate to get in touch via our contact form.
Our range of snack vending machines include the following great options, all of which will enhance your business and keep your customers and employees happy.
Broderick's Media Vend – This vending machine allows you to stand out from the crowd, offering a unique touch screen interface for vending our products. This is the perfect place to advertise your brand through bespoke graphics and screen shots.
Crane Merchant Media – This machine features state of the technology offering nutritional information on the built-in touch screen for the products. It features shopping cart technology allowing you to collate multiple products to be vended. Another amazing feature that we love is the fact that at the end of its life it is 78% recyclable.
Coffetek Palma – The Palma offers some great features for one of our more entry level vending machines, including the ability to have two different temperature zones, ideal for chilled products and savoury snacks. It also has the ability to take cash and cashless payment.
Bevmax Media – The Bevmax allows stylish vending of bottled drinks and cans, with customisable adverts on its bright touchscreen, the ability to advertise on its scratch resistant pill board plus much more. You can pay by coins, notes or contactless payment, this stylish machine really is a great addition to any workplace.
Coffetek Step – The step vending machine from Coffetek features a large, vibrant and crisp 12-inch display, perfect for displaying advertising videos and media content. This machine allows for dispensing single fresh brew tea and is one of the best bean to cup coffee machines available at the moment.
Broderick's Sigma Touch – Featuring a 19inch touch screen, with fully integrated speakers. The touch screen whilst providing allergy information and product selection also doubles up as a large advertising medium to showcase your products or that of a paying sponsor. This vending machine also features a disability friendly mode allowing for wheelchair access to the machine.
Broderick's Sigma Light – Alike the rest of the sigma range the light comes with the fantastic bright advertising space on the inbuilt screen. The light also comes with free audit software allowing you to download drink sale information direct to USB.
Broderick's Sigma Simplicity – The sigma simplicity is a fantastic all round solution for your drink dispensing needs, allowing hot and chilled drinks to be dispensed from the same machine. As with the rest of the Sigma range the 12-inch advertising screen is perfect from engaging with and attracting your audience.
Crane Voce – The voce is a class leading drinks vending machine allowing for hot and chilled beverage selection, but in addition also allowing for carbonated drinks to be dispensed. Customisable drinks can be saved into the machine with a unique 4-digit code, this is a great time saver each day. It also features a large display for product selection and advertising on.