Valentine's Day, a time to celebrate love – but what is love?
The concept of love varies vastly, in simple terms, it is the act of having someone's best interest as a priority in your life. Whether this is a friend, family member, partner, or pet, they all consist of a unique bond which you treasure selflessly.

So, what do we love here at Broderick's?
The first thing that comes to mind is of course, coffee (can you blame us) … however, going a little deeper, we are a family-run business, and with this, comes our core family values. As the business continues to grow, the Broderick's family is still as much a part of the fabric of the business as they were forty years ago, with a strong mindset, encouraging us to be hands on and proactive, as well as caring for and looking after our team.
How do we show love?
As a business, we continually search for ways to show our love and support to our team, customers and community.
Our customers are the forefront of our business who we strive to make happy with our innovative machine technology, high-quality product range, revenue generation strategy, service, and engagement app. Whether you are a small business installing a tabletop coffee machine, a large corporation with over 100 snack, bottle, fresh food and hot drink machines, or a consumer out shopping, you are our priority! We always seek feedback and engagement from our customers, which is why we reward regularly on our Pay4Vend app, where we can communicate directly to users.
We also take great pride in supporting our community, such as donating to charitable organisations, scouting young talent with apprenticeship schemes, and hosting our local businesses meet with key speaker, Andy Burnham.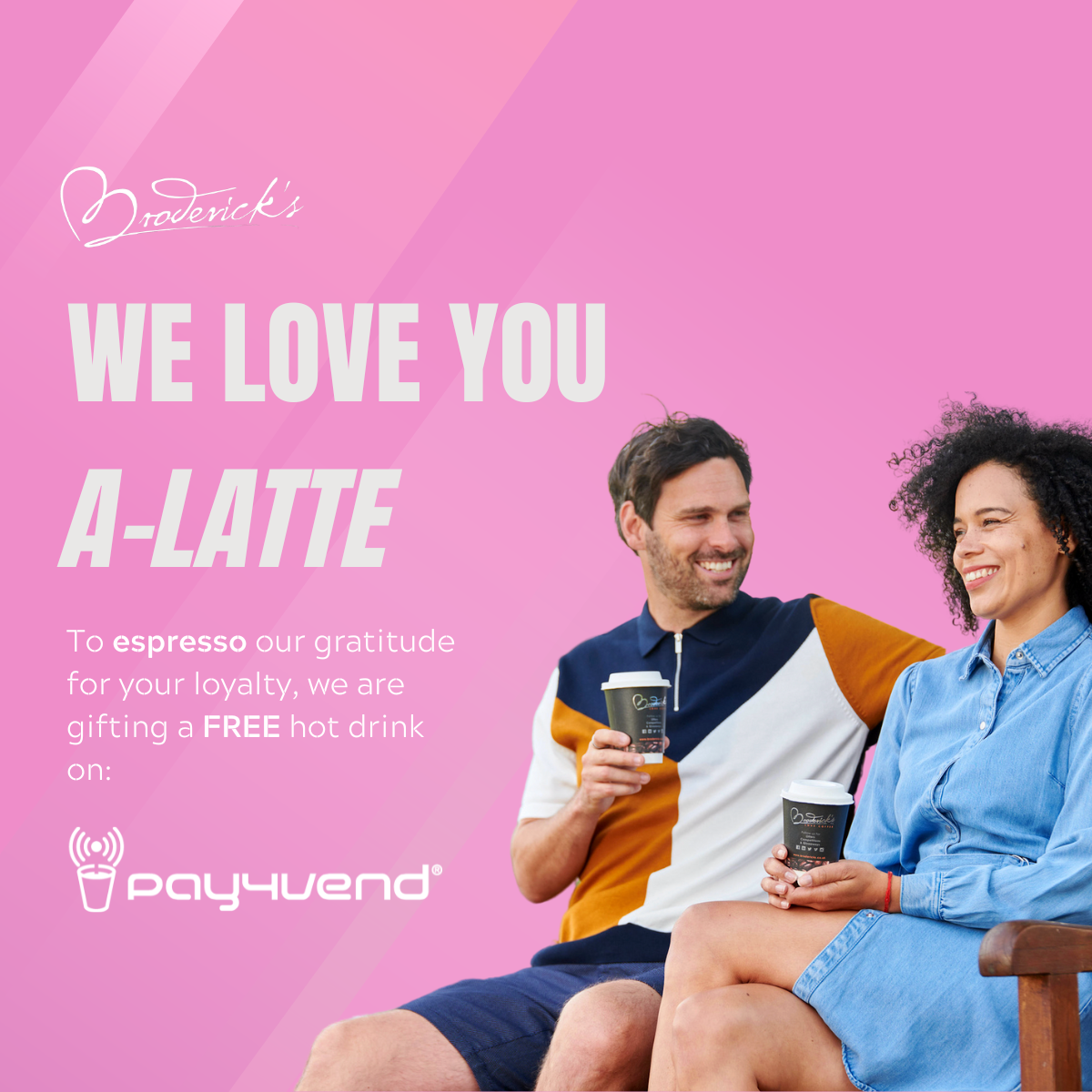 Showing love this Valentine's
Although we agree love should be shown every day to those you care about, it doesn't mean we can't celebrate on the 14th of February! We are gifting ALL of our Pay4Vend users a free hot drink on this day to show our love and appreciation of their loyalty. So if you're grabbing a drink with a colleague, friend or partner to celebrate this day, have it on us – it's the least you deserve!
Enjoy a warm beverage and chat with a loved one to make the most of the day, but always remember to look out for those who may seem a little blue. You never know what's going on in other individual's lives, or who they may have lost, so be mindful, and give love where and when you can.
Love,
The Broderick's Family