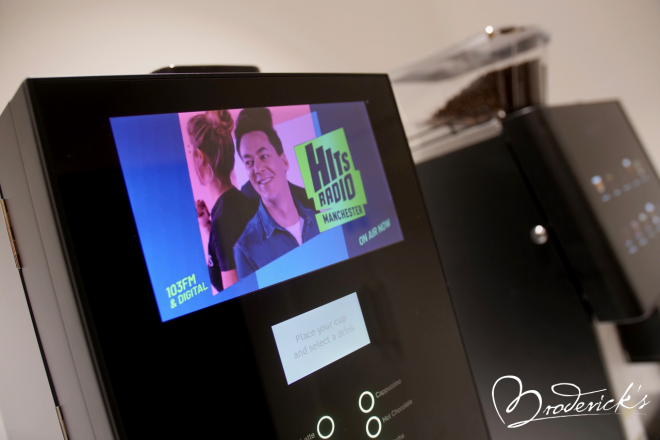 Beat off the post-Bank-Holiday-Blues with the chance to win a year's free hire of a Broderick's coffee machine for your office.  What's more, we'll throw in the first 1,000 drinks for free too!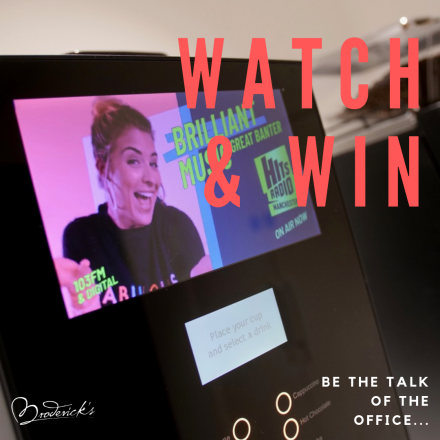 Broderick's has teamed up with our friends over at Hits Radio to offer this fantastic prize.  Huge converts to Broderick's vending machines and the café style coffee they serve up, over the last few weeks the Hits team has been on a mission to convert Manchester businesses to the smarter way to enjoy office refreshments.
To be in with a chance to win a year-long upgrade to your office's team and coffee breaks, just take a look inside the Hits Studio, for a behind the scenes insight into the Breakfast Show.  Looks like someone needed a Broderick's coffee to help get them on top form to present the show.  But where did they leave their cup?
Tell us where you spotted the Broderick's cup in the video clip below and remember to include all your details on the form to be in with a chance to win this amazing prize.  Your colleagues and boss will thank you for it!
*Please note this competition has now ended! We want to thank everyone who entered.*