Media Vend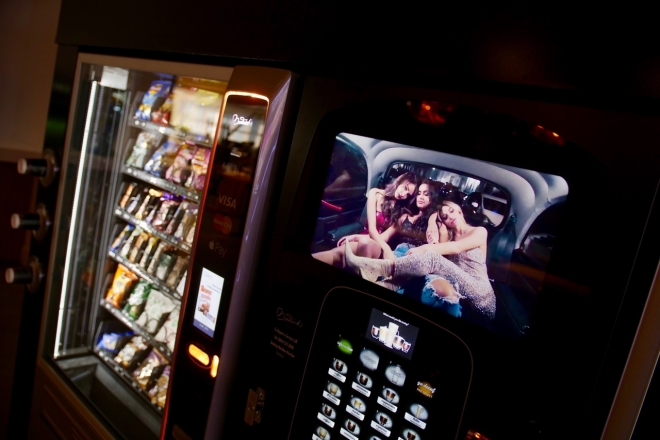 What is Media Vend?
Giving your drink or snack brand the competitive advantage, Media Vend on-screen adverts prompt sales and influence brand choices at point of purchase: the vending machine.
Capturing your customers' attention when they are already at a vending machine – in the right frame of mind to treat themselves – delivers a very real uplift in sales.
Over 400 Media Vend machines across the UK advertise at points of high dwell time: airports, major employers' offices, universities and even libraries.
In airports alone, our vending machines reach an audience of over 80 million passengers.
The at-work sector, a previously untapped high growth market, translates into sales of over 25 million cups of tea and coffee a year for Broderick's.
Your interactive adverts could be viewed up to 47,000 times a day to an audience of millions.
Media Vend advertisers have seen a tangible uplift in sales during advertising campaigns, of between 15% and 50% depending on their category.
Media Vend interactive on-screen advertising is entirely trackable and transparent.
Media Vend on point for brands
Brand managers and marketing agencies are calling on Media Vend to launch their FMCG products and boost sales with promotions on established products. And with full data transparency, they're using Media Vend results to build a very clear picture to shape their strategy.
Brands can:
Gain market insights: the first real GDPR compliant vending data of its kind.
Refine campaigns by tracking data to advertise at the optimum time of day for their product.
Capture data on screen by running promotions on pack or via the app.
Connect with Broderick's app users to get messages seen by our engaged database
Run geo-targeted loyalty and rewards schemes
Segment your audience for bespoke promotions.
A whirlwind history of Media Vend touch screen advertising
What began in 2011 as an added value experiment with interactive screens is now a major out of home advertising success story that's changing the way brand managers market their FMCG products.
Broderick's touchscreen technology was, and still is, a market leading concept. Customers could see their drink and snack choices brought to life:  simply touching the screen to make a selection.
Boosted sales and positive customer feedback sparked an idea for Broderick's innovation team.  Why not introduce interactive adverts to the screens to promote the brands stocked in the vending machines?  Enter Media Vend, which continues to break boundaries.
A flexible, targeted approach
Media Vend integrates seamlessly into wider marketing campaigns for maximum impact. The journey begins with our revolutionary app – Pay 4 Vend – which works hand in hand with Media Vend screens to encourage loyalty and repeat purchase.
What's more, on screen advertising can boost social media engagement with clever on screen mechanics like 'win a cup of coffee' competitions for photos posted on social media platforms.
The list of applications goes on….Workplaces are reaping the benefit of using vending screen technology as a local platform to replace intranet: keeping in touch with the team when they're at their most receptive.  Snack time!