Monster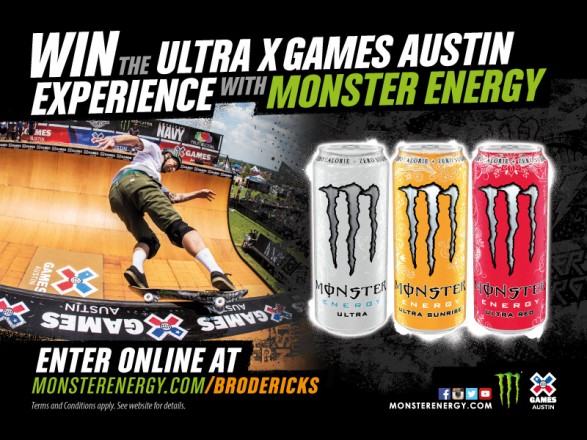 A MONSTER EXERCISE IN CONSUMER ENGAGEMENT WITH BRODERICK'S
THE CONCEPT
For Monster Energy Drinks, customer engagement is crucial, so launching its Ultra family of drinks with a high octane consumer competition to win a Summer X Games experience in Texas was always going to be a winning idea.
It's a big prize – flights and accommodation for a five night holiday in Austin, a VIP wristband for the event and VIP parties, worth £3,500 per person – so the communications around the competition need to work hard.
ACTIVATION: Broderick's creates a buzz around the brand.
Bringing Media Vend advertising on board as a key communications strategy, for the very first time Monster has created a bespoke video advert especially for Broderick's vending machine screens.
Launching March 2016, the Monster Media Vend campaign looks set to be a stroke of genius.
Interactive vending machine advertising is a proven and effective communications tool: engaging the consumer at the point of purchase in this way recently prompted one snack brand advertiser's sales to sky rocket. The company reported that an impressive 45% of all vending machine sales came through Broderick's Media Vend machines.
With an audience of over 80 million people at its airport vending machines alone, Media Vend adverts are perfectly positioned to disrupt consumers' decision making and influence purchase.
CREATING CONSUMER EXPERIENCES
Dave Hamlet, brand manager at Monster Energy Drinks, said: ''Media Vend is a really important vehicle for us. The idea of the X Games competition is to build an affinity with the consumer to encourage brand loyalty, as well as to drive sales. By communicating these all important messages actually on the vending machine, where there's high dwell time and people can actually make a decision that leads directly to purchase, is invaluable.''
The Media Vend platform seamlessly integrates with Monster Energy's online competition entry mechanism at www.monsterenergy.com/brodericks and ties in with its social media and other marketing around the competition for maximise the energy drink brand's marketing budget.
WHAT NEXT: CONSUMER ENGAGEMENT IN THE CAN
Once the campaign is underway, tracking and reporting is completely transparent. Thanks to real vending data, Monster will be able to track Monster's sales volumes and show where and when the drinks are bought: to give insights into the brand's customer buying habits.
Previous Broderick's Media Vend campaigns have resulted in a 43% uplift in sales for energy drinks brands, so watch this space!
As for customer engagement, this is a campaign that will just keep giving – as the prize winners will be in the limelight with an on screen Media Vend celebration of their win to continue to build brand personality.