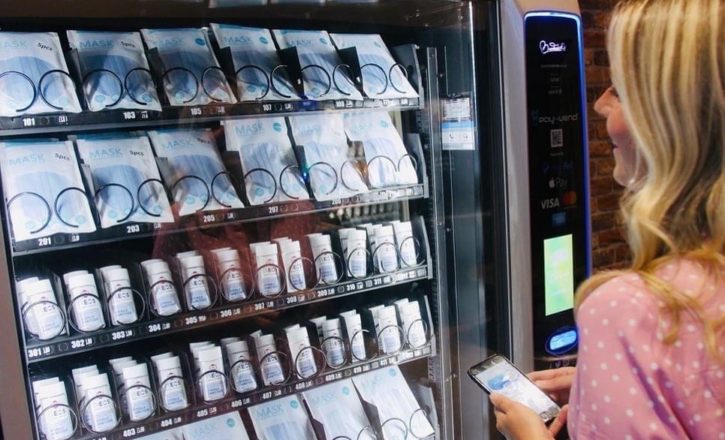 This week has been extremely busy! We have installed ground-breaking PPE vending machines in London Stansted Airport, East Midlands Airport and Manchester Airport to help MAG Group manage its strict health and safety airport measures.
The 24 vending machines are completely contactless and stocked with PPE including masks and sanitiser.  All the machines are a 2-metre safe distance from any other outlet.
This is the UK's first fully contactless and cashless vending solution, using credit card, tap and mobile wallets.  In these times of COVID-enforced social distancing touch-free technology is a vital advance.
Airports and airlines are working to strict new safety measures, including compulsory masks, social distancing and no in-flight food services. Broderick's has been vending partner to MAG Group since 2005.  The contactless machines have once again shown our agile approach with a rapid solution to safer airport refreshment and the sale of PPE.
Our MD, John Broderick, said: ''We're extremely proud to be playing a part in helping travellers stay safe as air travel opens up.  The telemetry technology we've developed is totally new in the UK.  We're delighted that we've managed to turn around the delivery in record time with a team of trusted partners.  Thanks goes to our manufacturing partners at Crane Merchandising Systems, the tech team at COGES and the border-force and security team at three MAG airports.  This was a truly collaborative industry effort.
''Setting up a bank merchant and contactless, cashless technology, filling the machines, full PDI and delivering to site, all in the space of a week, has been no mean feat!''
Partnering with the Italian tech giant COGES to bring the contactless Nebular system to the UK, this project is the latest UK first we've developed together. Other successes include our Pay4Vend app, which has played a huge role in this latest advance.
To celebrate the launch of this new technology, we're thanking NHS workers for their hard work through the pandemic. 20% of the revenue generation will be used to refresh NHS frontline with staff free drinks and snacks during shifts via our Pay4Vend app.
John continued: ''Supporting the airports and NHS workers is a great way to launch this new product to the UK.  As the world begins to return to normal MAG will see tens of thousands of people a day making use of this service as they pass through the airports.
''For us, it's just the beginning. We can also offer the touch-free technology and PPE machines to call centres, manufacturers, leisure, retail centres and more.  We can even personalise branding, and can work on various flexible contracts to help business safely bounce-back from the COVID pandemic.''