PPE Vending Machines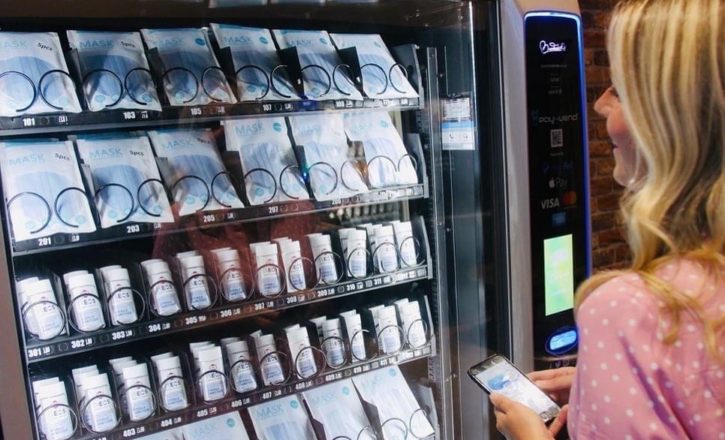 As the COVID-19 pandemic has affected every business, it has also called for a new way to offer vending solutions. Our managed vending machine service ensures your PPE vending machine is stocked and maintained to the highest standards, at a frequency that works for you.
PPE Vending Service
One major aspect of employee health, safety and wellbeing is readily available PPE. We understand that businesses may need to keep a closer eye on their budget during these times, while still providing easily accessible protective equipment. Broderick's PPE vending solutions offer a practical, affordable, reliable, and convenient method for achieving this.
Our PPE vending product range includes vending machines with contactless payment methods, making this solution even more adapted to environments with high foot traffic and a desire to minimise cash-handling and payments.
If you're looking for a drinks vending solution that adheres to distancing protocol, Distance Select is a cutting edge technology that drastically minimises the need for users to come into contact with the vending machines. Users can simply indicate the item they desire from a safe 2cm distance – creating a hygienic barrier as well as boosting user confidence that you as a business are taking all necessary steps to ensure their continued safety.
Face Mask Vending Machines
You can customise the consumables you choose to stock in your PPE vending machine to suit your specific needs – whether that includes facemasks, hand sanitiser or other related PPE. The most popular item – for good reason – is facemasks. Government guidelines are highlighting the importance of face coverings in social settings, as well as on public transportation and where possible – in the workplace.
The convenience that a face mask vending machine provides is two-fold; you will be facilitating and encouraging the use of PPE within the office space, allowing your employees to feel safer coming in to work each day, while also keeping your costs down by having the items for sale as opposed to freely available.
Hand Sanitiser Vending Machines
Good hygiene practices are a vital aspect of controlling the spread of the virus. Offering hand sanitiser as part of your PPE vending solution will encourage staff to keep up with regular disinfection and will also provide a convenient way for visitors to maintain their preventative hygiene practices. A hand sanitiser vending machine is also excellent in environments with heavier foot traffic – such as libraries or leisure centres – where contact with other items is likely – and hand sanitising is recommended.
PPE Vending Success Stories
We have successfully installed ground-breaking PPE vending machines in London Stansted Airport, East Midlands Airport and Manchester Airport to help MAG Group manage its strict health and safety airport measures. We are also excited to be making Liverpool John Moores and UOM cashless for September through introduction of our contactless payment options, and look forward to introducing touch-less, cash-less vending solutions to many customers over the coming months.
Why choose Broderick's?
Broderick's is a national vending supply and operation business with the control and dedication that comes with being family owned and independent. Our experience spans over 50 years and brings with it a unique ability to adapt our service offering based on our valued customer's needs.
We have a multitude of PPE vending machine types to suit your environment – which can be populated with personal protective equipment of your choice. To make life even easier and safer, many of our PPE vending machines have card and contactless payment options.
For more information about our PPE vending machines and the possibilities they hold for your workplace, get in touch with our team of experts who will be happy to discuss our products and services with you.
Speak to one of our vending experts today to find out how Broderick's can help in making your workspace COVID-secure through PPE vending solutions.#wehaveyoucovered