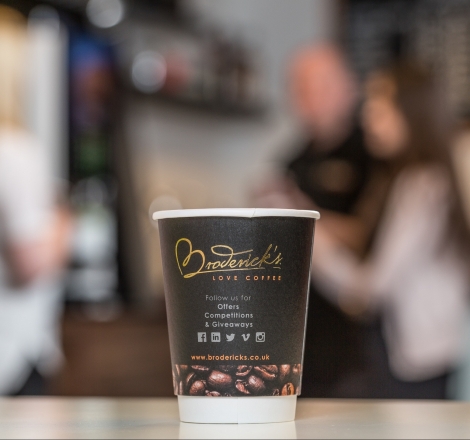 Today, the Government Environment Audit Committee, published its report: 'Disposable Packaging: Coffee Cups'.
It made for an interesting read and key recommendations include:
A levy of 25p on coffee bought in takeaway cups: otherwise known as the 'latte levy'.
A ban on takeaway cups by 2023 if there are not 'high levels of recycling' by that time.
Coffee chains to pay more towards disposing of cups.
Improved labelling to better educate consumers.
Coffee cup recycling – myth busting
It was Hugh's War on Waste that started a media furore around recycling. But the issue of recycling coffee cups has been tackled by the industry for years. Myths and misinformation abound. Consumer perception was always that paper coffee cups were being recycled along with other paper products. Since Hugh's BBC crusade though, there's a discussion around the fact that coffee cups are lined with non-recyclable material.
Let's bust that myth. Coffee cups are recyclable and always have been recyclable – it just takes a desire and commitment to make it happen. Paper cups are a sustainable and safe solution for drinks on-the-go.
At Broderick's we've always been extremely conscious that, as a leading vending and refreshments business, we have a responsibility to minimise our impact on the environment.
20 years ago – yes, 20 years ago! – we launched our ground-breaking Collect a Cup scheme. At the time, most takeaway coffee cups were made of plastic, so we collected them and recycled them into pens for local schools. Nifty!
Broderick's Collect a Cup Scheme
Now, we're proudly relaunching our 2018-relevant Collect a Cup scheme.   For over three months we've been busily working away in the background on a test scheme to collect paper cups from our clients to deliver them to paper coffee cup recycling facilities – where the inner liner is separated from the paper board cup.
We're working in close partnership with Simply Cups – the UK's only paper coffee cup recycling scheme. We're proud to say that we're the first and only North West vending partner of Simply Cups.   These are exciting times and we are crusading to get our customers and clients involved.   It's simple – participating customers simply pop their waste coffee cups in a recycling bin we provide and then Simply Cups and Broderick's whisk them away to be recycled.
Broderick's and bio-bean
Take a look at this article about Broderick's in the Manchester Evening News. Our flagship coffee bar at Manchester Airport's T2, along with our First Street café, collect all spent coffee grounds to be recycled by bio-bean into Coffee Logs.
Over this year, Broderick's Manchester Airport café alone will generate enough waste coffee grounds to produce over 4,000 of bio-bean's Coffee Logs, which can be used to power stoves, wood burners and chimineas.
The Coffee Recycling Company, part of Lavelle waste, collect the grounds from Broderick's cafés on a weekly basis.
Be Recycling with Broderick's Ireland
In Ireland we've joined forces with ReCUP – a new takeaway paper cup that is engineered to be fully recyclable using existing paper recycling processes and infrastructure to be made into new recycled paperboard products and will be manufactured by Cup Print in Ireland. Read more about our environmental initiative.
Managing director of Broderick's, John Broderick, said: ''It's vital that coffee cup recycling is on the Government's agenda and we're fully behind the battle to make a difference. We believe, however, that a 'latte levy' isn't the way to go. It's about educating the consumer, so they can make proactive choices. It's about getting retailers behind recycling schemes and introducing the right 'binfrastructure' nationwide. And it's about each and every one of us making a conscious effort to tread lightly. At Broderick's we do that individually and as a business.
''I personally sit on the AVA (Automatic Vending Association) Cup Committee – which is partnered with the Paper Cup Recovery and Recycling Group. As a collective, we've been working on a number of exciting initiatives that are a matter of days from being released. One exciting trial is a continuous recycling mill that can recycle all the paper cup material currently in circulation within a week – without the need to separate out the board from the PE lining.
''If you'd like to have a chat with me about my thoughts on paper cup recycling, I'd be delighted to discuss it with you over a cuppa!''